Lori Sangha, RSW, MC (Master of Counselling), C.C.C.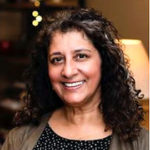 I have been providing therapeutic services to children, youth, adults and families for over 25 years as a social worker and a counsellor. I have worked in school settings, health care, child welfare, youth justice and family services agencies. Along with a Master's degree in counselling I have training and experience supporting people in a variety of areas, including anxiety and depression, trauma and chronic stress, parenting, child and family development, cross-cultural and diversity issues, grief and loss, teen challenges, life transitions, addictions, and couples relationships.
I believe that solutions for life's struggles can be discovered through a respectful, collaborative process in counselling. I offer a safe, caring and holistic approach, helping you to discover and build upon untapped inner strengths and resources so you can move towards resolution, healing and success.
I draw from principles of positive psychology, existential philosophy, interpersonal neurobiology, and attachment theory in my work. I recognize the importance of the mind-body connection in promoting healing and growth. In order to provide the most effective results, I tailor interventions to meet the needs of each client.
I am dedicated to my ongoing personal and professional development, and I have training in a variety of approaches including:
Satir Transformational Systemic Therapy, Bader-Pearson Developmental Couples Therapy, Emotionally Focused Therapy, the Gottman Method, Dialectical Behavioural Therapy and Mindfulness Based Stress Reduction.
I look forward to meeting you and to facilitate your journey of self-discovery, leading to greater wellness, wholeness and ultimately greater resilience.