Maryam Abdipour MA., RCC

My Approach
I have specialized training in working with youth, teens and young adults using unique techniques that help draw out the expressive nature, strength and confidence in people.  I guide young people and help them flourish and prosper as they transition into the next phase of their life.
I have a special gift for establishing rapport and inspiring confidence in my clients.
YOUNG ADULT COUNSELLING
As your counsellor I will help you gain a deeper understanding of your thoughts and feelings, provide you with strategies to effectively cope with stress, and help you identify what it is that you truly want and need.
I can also help you identify patterns, behaviours and unresolved issues that could be interfering with your happiness and achievement of your personal goals.
In a safe and non-judgmental setting, we will collaborate to explore both areas of strength and aspects of your life that you would like to improve.
Essentially, through therapy, we can explore strategies to help you achieve your goals and begin making impactful changes in your life.
Each individual I work with has his/her/their own unique needs, so I tailor treatment according to your need.
With my support you can work toward the growth you want to realize in your life.
TEEN COUNSELLING
Is your teenage child struggling to function at school, home or in society?
Have you noticed a concerning change in your teenager's emotional stability or behavior?
Is your teen experiencing mood swings and/or behavioural changes?
Does your teenager have difficulty managing stress and life responsibilities?
Do you wonder if your teen may be suicidal?
Are you worried your teen may not make it through adolescence to become a healthy, functional adult?
Do you wish you better understood your teen's experience and had the skills and support to help him or her work through the challenging teenage years?
I can help with the above issues. As your teen's therapist, I will teach them to develop the skills needed to understand themselves better and cope with difficult/overwhelming emotions in ways that are healthy and empowering.
I also aim to build awareness and reflection in teens to help them see how their behaviour affects others in their lives.
Through my work, your teen will have a better understanding of who they are and will develop an improved self-esteem at an age where identity and self-worth are constantly being tested.
CHILDREN 9 years old and up:
Counselling can help your child feel more confident in and out of school, reduce negative behavior and improve coping skills.
I will help your child to explore and resolve problems through the use of therapeutic play therapy.
Play therapy is helpful to children in numerous ways, including:
Helping to heal from past stressful and traumatic experiences.
Allowing for the expression of feelings.
Encouraging creative thoughts and new ideas.
Allowing the development of healthy decision-making skills.
Enabling the communication of problems and concerns to others.
Supporting the learning of new ways of thinking and behaving.
I can help your child with the following issues:
Behavioral problems like excessive anger, acting out, bedwetting, or eating disorders.
Grades in school dropping significantly, especially if the child usually maintains high grades.
Episodes of sadness, tearfulness, or depression.
Becoming socially withdrawn or isolated.
Being the victim of bullying or bullying other children.
Showing aggressive behaviour, such as biting, kicking, or hitting.
Developing or increasing physical complaints, such as headaches, stomach-aches or not feeling well in general, even with a normal physical exam by the doctor.
Experiencing problems in transitions following a separation, divorce, or relocation.
Groups for Youths

"The youth group sessions that I had with Maryam were one of the best experiences I have had. Working one on one with Maryam has been very beneficial for me but to work with her in a group setting was far different. We met once a week for around 8 weeks and discussed broad topics that Maryam had prepared for us such as "unconditional love", "grief" and "the body's reaction to stress". It was nice to have these topics to guide or discuss but the session was flexible and created a safe space for everyone to share anything that was on their mind. Meeting with others my age showed me that the things I am working on one on one with Maryam are normal amongst youth and give one a sense of validation. Overall a great experience! "   Nikki 2022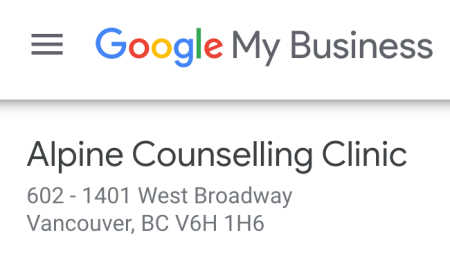 "I've been seeing Maryam at Alpine for a couple of months now and have been so pleased with my experience. After trying countless clinics and counselors and having no luck, I was a bit hesitant when a friend recommended Alpine. That hesitation quickly went away after speaking with the administrative staff who were so lovely and matched me up with Maryam! Maryam is authentic and easy to talk to. I find she is open and receptive, and also challenges me to dig deeper and get to the root of things. Since starting counseling with Maryam, I feel more supported and heard than I have in ages! Couldn't recommend Maryam and Alpine more, especially for young women! Such a supportive and safe environment to be in!"
"Maryam has been a fantastic therapist. She is so compassionate and kind, professional and knowledgable. She has made a tremendous positive impact on my life and in helping me navigate stress and emotions. I highly recommend her to any young adults struggling with anxiety, stress, panic attacks, or self confidence."